LPKF RadialWeld 2200
Economic and reliable joining
of cylindrical components
Integral laser plastic welding solution for cylindrical and non-rotatable workpieces
Increased power for high production throughput
Stable process technology, integrated quality assurance
Low space requirement, extensive interfacing options
Cost-efficient in investment and maintenance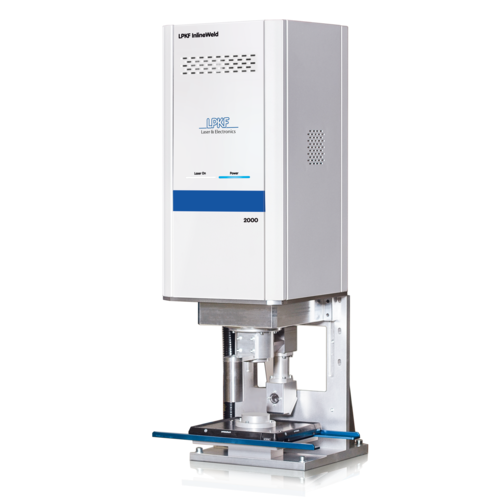 Radial welding with a system
Hygienic and particle-free: plastic connections by laser welding
The RadialWeld 2200 simplifies the radial welding of rotationally symmetrical plastic components. The system was developed for automated production lines and consists of a welding head with a powerful laser source and a rotating arm for fast welding processes. The system architecture is very easy to adapt, giving the user a high degree of flexibility in component design. The quality of the radial welding process is monitored and controlled by an integrated functional component.
With the LPKF RadialWeld 2200 radial welding system, various geometries can be reliably welded:
Cylinder-shaped components
Oval components
Customized geometries upon request
For specific fits, the use of an external compressive force is required. The RadialWeld 2200 offers this possibility:
Press fit; no pressure is required in this case
Conical designs require the application of pressure
Round Cylinders
Whether small or larger diameters: round shapes can be optimally laser welded
Oval parts
Welding of oval components is also possible with the InlineWeld 2000 Gen. 2 radial welding system.
Various geometries
Talk to us if you have other geometries. The InlineWeld 2000 Gen. 2 also offers specific solutions for this.
Possible weld seam geometries
Press-Fit
The joining partners are pre-assembled by means of a press fit before welding. The height and surface of the component (flat or with interference contours) can vary.
Tapered fit
External force application is required for welding conical welding edges. The exact configuration of this is carried out by our experts.
Joining with bridge
This seam geometry requires an adjustment of the beam guidance as well as the application of an external force. Our experts design the system precisely.
Brochure
LPKF_RadialWeld_2200.pdf
(

pdf

- 186 KB)
Download