Designed for processing a wide range of materials including
Aluminum
Nickel
Tungsten
Molybdenum
Tantalum
Stainless steel
Copper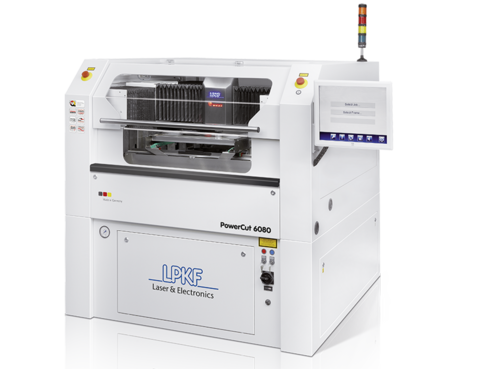 This is our PowerCut 6080
The LPKF PowerCut 6080 is a lasersystem based on the well-known and field proven G6080 StencilLaser platform. Through targeted improvements and optimizations, the system has beend developed in particular for the production of precision cut parts made from metal and ceramics. In addition, the system can still be used for cutting standard SMD stencils.
Thereby the user does not only benefit from the already familiar advantages of the G6080 platform, such as high accuracy and quality, but also from the system's inimitable performance. Thanks to its powerful laser source, the PowerCut is capable of processing a wide variety of materials. These include different ferrous and non-ferrous metals such as stainless steel, aluminum, copper or titianium as well as various types of ceramics.
Benefits of the PowerCut 6080
Perfect dimensional accuracy
High contour accuracy with extremely small radii, optimally sharp edges, smooth and clean surfaces, plus steep cutting walls are the hallmarks of laser cutting with the LPKF PowerCut 6080. If required, SMT stencils - from a stencil board thickness of 80 µm - can also be produced with the PowerCut 6080.
Manufacturing of various metals
Suitable materials are steels of different alloys. Non-ferrous and precious metals can also be processed very economically. Depending on the type of metal, the material should have a thickness of 0.08 to 4 millimeters. The tolerances are in the thousandths of a millimeter range. The kerf and the heat-affected zone are much narrower compared to other cutting processes, so far more precise results can be achieved.
By the implementation of a very powerful laser source and an optimal design of the system, the PowerCut offers the highest performance and cost efficiency for the production of precise cutting parts made of metal and ceramics.
In terms of the process the laser of the PowerCut 6080 offers another great advantage: it works in a very environmentally friendly way compared to the alternative etching technique. Laser processing does not require any additional auxiliary materials as in etching, which would have to be disposed afterwards. Material that has been removed can be melted down afterwards and reused - this is not possible in this form with etching.
---
| | |
| --- | --- |
| | PowerCut 6080 |
| Working range | 600 mm x 800 mm (23.6" x 31.5") |
| Max. frame size | 740 mm x 1800 mm x 40 mm (29.1" x 70.9" x 1.6") |
| Max. material thickness | up to 4 mm (150 mil) |
| Axis accuracy | ±2 µm |
| System dimensions (W x H x D) | 1530 mm x 1920 mm x 1625 mm (61" x 75" x 64") |
| Weight | ca. 2200 kg |
---
Brochure
LPKF Laser Systems for SMT Stencils and Precision Parts
(

pdf

- 878 KB)
Download
---